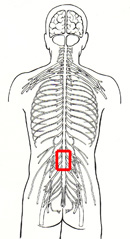 In this photograph the meninges of the spinal cord has been incised at the midline and the left side of the dura mater has been reflected and held by the forceps. The arachnoid membrane and arachnoid trabeculae are seen just beneath the dura mater (seen as a thin, glossy film and spiderweb-like strands, respectively).

Just beneath the arachnoid membrane lies the subarachnoid space. When performing a lumbar puncture, the needle is inserted between the L3 and L4 vertebrae or between the L4 and L5 vertebrae (recall that the L4 spinous process is located at the level of the supracristal plane). The needle would be inserted to access the subarachnoid space in order to draw a CSF (cerebrospinal fluid) sample. Note that the spinal cord normally ends at approximately the L1-L2 vertebral level in adults and the L3 vertebral level in infants.

It is also important to note that the subarachnoid space ends at the S2 vertebral level in an average adult.