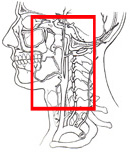 Interruption of the sympathetic pathway to the head produces Hornerís syndrome, with the following 4 symptoms:
1. mild ptosis (drooping) of the upper eyelid due to paralysis of Mullerís muscle (smooth muscle at deep aspect of LPS aponeurosis) Ė this ptosis disappears upon upward gaze due to intact skeletal muscle portion of LPS
2. miosis (abnormal constriction) of the pupil due to paralysis of dilator pupillae
3. loss of heat-induced sweating
4. loss of heat-induced or emotional vasodilation
Damage to specific damage to T1 of the spinal cord affects ocular symptoms but not those related to vasculature or swelling. Pathology of the internal carotid plexus (carrying sympathetics to the head) leads to miosis and mild ptosis, with vascular and sweating problems restricted to the forehead.

Excessive emotional blushing can be controlled by interrupting preganglionic sympathetic axons arising from the spinal cord at the T2 level and can be achieved through endoscopic upper thoracic sympathectomy (or sympathicotomy). This procedure can also be used to control excessive facial sweating.